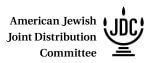 American Jewish Joint Distribution Committee
Ancestry.com.
Karten jüdischer vertriebener Personen und Flüchtlinge aus München, Wien und Barcelona, 1943-1959 (JDC)
[Datenbank online]. Provo, UT, USA: Ancestry.com Operations Inc, 2008.Ursprüngliche Daten:
Munich, Vienna and Barcelona Jewish Displaced Persons and Refugee Cards
. New York: American Jewish Joint Distribution Committee Archives. This data provided in partnership with
American Jewish Joint Distribution Committee.
Karten jüdischer vertriebener Personen und Flüchtlinge aus München, Wien und Barcelona, 1943-1959 (JDC)
Diese Datenbank enthält die Registrierungskarten von etwa 85'000 jüdischen vertriebenen Personen, die sich beim Auswanderungsamt der Hilfsorganisation US-amerikanischer Juden (Joint Distribution Committee, JDC) in München und Wien nach dem Zweiten Weltkrieg registrierten, und zusätzlich dazu Karten mit Informationen über jüdische Flüchtlinge, für die die JDC während und unmittelbar nach dem Krieg in Barcelona sorgte.
Historical Background:
During World War II, the American Jewish Joint Distribution Committee (JDC) helped support Jewish communities which became impoverished under Nazi rule and assisted Jews who were fleeing from Nazi-occupied countries. In 1940, JDC was assisting refugees in transit in more than forty countries in eastern and Western Europe, Asia and Latin America. JDC subsidized travel expenses, provided refugees with food and in some cases shelter.
After the war JDC primarily provided supplementary food, medical care and clothing to survivors throughout liberated Europe. In addition, JDC aided with the care of child survivors, the tracing of relatives, the reestablishment of Jewish religious and cultural life, and the emigration of survivors to various countries abroad. In 1947, more than one half the survivors in Europe – some 700,000 Jews – received help from JDC.
Beginning in November 1942, when the Nazis occupied the South of France, thousands of refugees from France, non-Jews as well as Jews began to stream into Spain. Though some refugees died during the long trek, they were mostly safe upon arrival, as Spain did not turn Jewish refugees back at the border. However, many of the refugees were imprisoned, especially those of military age or without money to support themselves. Men were kept in local prisons or sent to the infamous Spanish prison camp Miranda de Ebro. Women and children were housed in forced residences under curfew. JDC sent food to the prisons and camps, in some cases arranged for their release, and supported them until they could emigrate.
By the end of the war, more than seven thousand Jewish refugees had entered Spain illegally.
Among these refugees was a group of nearly 100 children, ranging in age from three to sixteen and whose parents had been arrested or deported, who in 1944 were smuggled in by the Jewish underground organization l'Armee Juive (the Jewish Army) with the assistance of JDC funds. In October 1944, 90 of the 100 children sailed to Palestine on the SS Guine, while the others joined relatives in the United States.
About the Database:
This database contains the registration cards of approximately 85,000 Jewish Displaced Persons who registered with the emigration department of JDC in Munich and Vienna after World War II, in addition to cards containing information about Jewish refugees whom JDC provided care for in Barcelona during and immediately after the war.
Information recorded on the Munich and Vienna Displaced Persons cards includes:
Last and first name of survivor


Sex/Gender


Last residence


Birth Date and Place


Nationality, Present and Former


Occupation, Present and Former


Country of Destination


File number


Date case file opened


Location in Transit from


Names of accompanying family members or other companions


Date file closed


Information recorded on the Barcelona Refugee cards includes:
Last and first name of survivor


Date of entry into Spain


Places of imprisonment and/or forced residence in Spain


Date of emigration


In some cases, information on family members